Take Action When You Need Emergency Water Heater Repair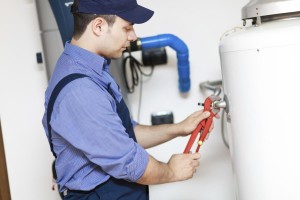 Would you know how to turn off your water heater if there was an emergency? If you notice your water heater overheating, making unusual sounds, or running in a manner that causes alarm, there's something you need to do before you call for emergency water heater repair in Sunrise Manor. You need to turn the water heater off. Allowing the water heater to run when it's not working well can lead to leakage, flooding, and other hazards.
The following instructions are good for both gas or electric water heaters. Your heater should have a diagram on the tank that will point out where each of the parts are that we discuss below.
Turn Off the Power
This is an important first step to avoid electrocution. Gas-powered unit, you'll need to twist the thermostat dial from the ON position to the OFF position. Electric water heaters are controlled by the circuit break. Find the switch labeled for the water heater and turn it OFF.
Shut Off the Water Supply
You don't have to shut off the water to the whole house if you can find the water valve on the appliance. You'll turn the heater's water valve clockwise until it stops. If this doesn't stop the water, then go ahead and turn off the main water supply to the whole house.
Other Water Heater Service Tips
Homeowners may want to drain the water heater before a Sunrise Manor plumber arrives at the home and open the relief valve. We typically advise our customers to let the professionals handle these steps, especially if you've never done these before. The relief valve will release scalding hot water that cause severe burns, which is why it's usually best to leave this to a licensed plumber.
When you need emergency water heater repair in Sunrise Manor, NV, call the #1-rated residential plumbers for repair and replacement service. Sunrise Manor Swift Plumbers are committed to get to your home fast – 90 minutes or less – and providing superior workmanship at rock-bottom prices. Call now to get an emergency plumber to your home today!